Today started by waking up in beautiful Italia around 6:30am. Though I should caveat, my roommate was the unlucky one who had to wake up that early for an 8am excursion. Fortunately, I had seen Pisa a few years ago, so I went right back to bed.
I woke up probably a good 5 hours after that. But watching her have to wake up an hour after she went to bed, it just occurred to me how having these sorts of action-packed ports were not at all conducive to a Backstreet cruise. The boys are up until the wee hours of the night partying, but then they expect people to get up for an 8am excursion if they want any chance at all to see the sites? Great in theory, but I don't think it works.
Livorno
Because I decided to get some beauty rest and sleep-in, most of my friends were already off the ship getting their gelato on, or whatever else it is they were doing in Italy. So I ventured off the ship hoping to run into someone I knew and explore the port. Maybe go to Pisa. Maybe just get some pizza and head back. I honestly didn't have a plan and I liked it that way!
I get off the ship and learned the only way into the downtown area was via a shuttle where we had no choice but to pay €5. Not a huge deal, but I think some fans (and even Rose Tour staff) were a little peeved about that. Not everyone has the cash handy.
When I arrive in Livorno I run into a few good friends right there in the main square. Perfecto! Couldn't plan it better if I tried. We were toying with the idea of going to Pisa but it looks like we were a little too late because there wasn't enough time to go, do the site, and come back in time before the ship leaves.
So instead we just walk around town, go into some shops, get gelato, etc. Nice and low key, which is just what I needed amid the craziness of a BSB cruise.
Me and Cort enjoying some gelato
Mix It Up with Howie D
I haven't seen a Backstreet Boy in over 15 hours (unacceptable on a BSB cruise) so I was excited and ready for some Howie D!!! I loved his solo event last year so I was really excited to see what he came up with this year.
When Howie came out he explained that his event would be all about drinks. Not really my cup of tea, but it involves Howie, so I'm there.
"Are you guys sober. Well I am and I'm ready to drink!"
"I didn't wake up until 2:30 and I'm very thirsty. It's too long for my body not to have a little bit of alcohol in it."
Oh Howie, if you were anyone else I'd probably think you're an alcoholic.
This event basically consisted of a Carnival staff member showcasing his drink making skills while Howie attempted some of his goofy jokes and antics. In my opinion it
sorta
worked. I don't know that Howie has a bold enough personality to carry an event like this. I think the Carnival guy almost overshadowed him (don't hate me!). Here's a few minutes for your viewing pleasure:
This is How-ie Do it!
The second half of the event was watching Howie play beer pong with a couple of fans. In my opinion, this was great for the few fans who got to play with him, but it didn't really translate into a spectator sport. It would've been alright for like 5 minutes, but it just went way too long. I wanted to see Howie more engaged with the crowd but he was more focused on the game.
Maybe I'm just becoming more jaded and cynical as I go on more of these cruises. I don't mean to come across all negative. I swear! I think he just set the bar really high from his last solo event.
After Howie's event I went and actually enjoyed the balcony in my cabin that I paid an arm and a leg for. Did the whole dinner thing. And next on the agenda....best part of the cruise!!
Show Em What You're Made of Acoustic Concert
I just don't even know where to start with this because no matter what I write up, will not capture the magnificence that was this concert. It was absolutely amazing from start to finish. I LOVE that they did an acoustic set and I LOVE that they only sang 2 singles. I LOVE that they finally understood that the fans on the cruise don't need to hear I Want it That Way. We're super fans and want to hear the rare gems.
Best setlist ever.




This concert was phenomenal. I wish they did more concerts like this. Here are some of my favorite moments:
The boys entered the concert by walking down the aisle and Brian was just an arm-lengths away as he walked by. Gosh, it really never does get old.


So close to Brian!

Let's Have a Party - Oh my gosh, AJ rapping his part brought me so much joy! I wish I could've had the homecoming video playing side by side.
Just to be Close to You- Geez, another oldie but goodie. At this point its feeling even more like the Homecoming concert. Super special to hear this one live.


Darlin - Brian was the first to sing his solo. I know it can't just be me - I still get a little nervous about Brian's voice. But as he finished up the last notes of this song, we all got a little emotional. He's still got it!!




Darlin

Don't Wanna Lose You Now - AJ prefaces this song by getting the crowd riled up asking if we'd want the Millennium 2.0 tour. That would be amazing!! But the song itself was simply beautiful! Reminds me how much I love the Millennium album.
Safest Place to Hide - It's by this point in the set that I'm actually comprehending how amazing of a show this is because there's no singles. Highlight: Kev gets choked up singing his part. I suppose that's not really a highlight, but I still felt the need to mention it. Mainly because after the song Howie joked that he was crying in his hotel room in Barcelona as he practiced the songs with his wife. At which point he said Kevin is channeling himself in Howie. More funny banter ensues. Feel free to check it out here along with Nick's beautiful rendition of 'I Got You'.




I Got You

I Got You - Aaack my favorite Nick song!! I was super excited. It was super nice to hear this song with the rest of the boys singing backup vocals. We also found out that Max Martin initially recorded this song about his child. Thus Nick shared the song now has new meaning for him. And that's your Backstreet fun fact of the day!



Get Another Boyfriend- I don't know how AJ gets outvoted every tour and this one can't make the setlist,!! Sorry I'm clearly run out of adjectives to describe these songs, but 'amazing' just works so well. They sang the 'Good G-d!' part and put a cool breakdown in the middle. Definitely a cool rendition.
Drowning- I enjoyed their intro to this. Mainly because they were just joking around. Howie tried beatboxing and AJ lovingly teased him. Then they tore apart their first Drowning music video (though I don't know why they hating on it. I enjoyed Spider boy AJ).



Drowning and Back to your Heart

Back to Your Heart - So happy this one made the setlist. I love, love this song. And Kev did a great job with it even getting choked up multiple times. But I love how they changed it up just enough to make it interesting but not losing the initial integrity of the song.
Siberia- This was oddly my least favorite. Only because I feel like I've heard it plenty of times at various soundcheck parties, etc. Nonetheless, it was a beautiful rendition. All I'm saying is if I picked the setlist, I would've chosen another song here that I don't get to hear as often.
Spanish Eyes - This was my favorite song of the evening. I thought Howie's intro to the song was endearing. He joked that it was hard to pick a song in his extensive catalogue of solo hits with BSB. Awww Howito! I also found myself tearing up a little bit during the song. It was just so beautiful!



Spanish Eyes

Just Want You to Know- I'm so happy that AJ told us to all stand up. I was ready to get on my feet and jam out. Too bad they didn't whip out the Spandex though.
Incomplete- I was actually okay with this single making the cut because I adore AJs opening in this song and they killed the acoustic version.
Lay Down Beside Me - The entire song was me repeating "Please let AJ hump the floor. Please let AJ hump the floor." I really just wanted to see him recreate that iconic moment. I heard he did it for Group A but sadly Group B wasn't quite as lucky.
Everybody- Perfect way to end the show! Though of course I didn't want it to end.
Acoustic Concert
I think the concert was the highlight of the cruise for many people. I wish I could articulate why it was just so meaningful. There was just something extra special hearing the boys sing these songs that they haven't sung live in probably 20 years. It was almost like things were coming full circle. Being there transported me back to 1999 when I was an awkward teen watching the Homecoming VHS tape on repeat dreaming of the day I'd get to meet the Backstreet Boys in person. Fast forward 17 years later - I've grown a lot. The 'boys' have grown a lot. This concert was almost like a time capsule that really demonstrated how far we've come and how far the boys have come. Whenever they're asked to describe a show, they will say "It's a trip down memory lane". But this concert in particular really was for the die-hard fans who have been there since the beginning and haven't left.
Casino Royale Night
After the concert I was coming off a high and ready for Casino Royale Night. Sadly this night got rained out and we had to move inside...again. Seriously why do we have such bad luck!? Thus we all crowded into the atrium and I decided to go no where near the front. Not worth it after my experience from the first night.
The boys arrived looking dapper as heck to James Bond music.
Boys. Backstreet Boys.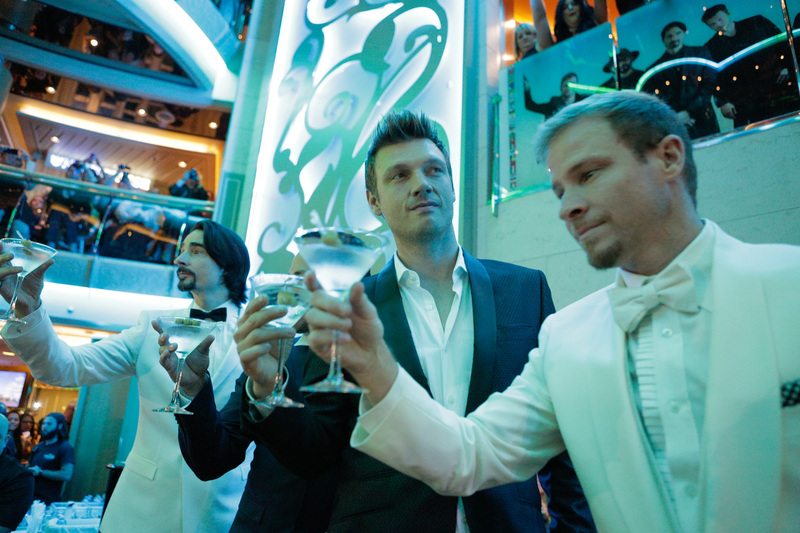 Credit to Backstreetboys.com
Once again the boys started off with everyone on stage and their brief introduction. The DJ got the music going and the boys quickly dispersed throughout the atrium to start their nightly mingling. Thus I assess the situation. 3 of the guys were down in the mosh pit and AJ had a nice orderly line. At this point I legit feel bad 'bugging' AJ again and trying to get another moment. But it was either wait in a nice line or deal with a mosh put. I opted for the line.
Before long I made my way to the front and had a nice quick interaction/hug with AJ. Sadly they're all blurring together so I don't remember specifically what was said. Though I guarantee it was delightful :)
Candid of me and AJ
Me and AJ during Casino Royale Night
Later that evening I saw that Kevin form a line for pictures. In case you can't tell, I'm a big fan of the lines! He seemed to be having fun and doing his typical Kevin routine. He'll dance in between chatting with girls and seems to take the time with each person. I could tell he had been drinking and was having a good time. He was pretty quiet with me, which is fine. He leaned in for the pic and this is the magic that was captured:
Me and Kev
Post-Party
Once the party died down, I went up to check out the club scene (which in real life is totally not my scene!) But given that a few of the boys were supposedly up there, I wanted to at least go check it out.
In a nutshell the post-party consisted of:
Howie DJing with a tiny crowd of girls surrounding him. Leigh was also partying with him.
A roped off VIP area where Nick was hanging out/mingling/taking pics, etc
Alongside the rope were a bunch of fans trying to get access to the other side of the rope
At one point Kevin showed up and took some pics with fans but didn't stay super long
I didn't have any success interacting with the guys, but I wasn't super focused on it that night. I was content hanging out with my friends until the wee hours of the morning (aka like 5 or 6). I just remember being super hungry and thinking if I just waited a little longer breakfast would be served :P I honestly haven't been up this late on a Backstreet cruise in quite some time! I think the time change was working in my favor as well as the boys favor. Eventually I decided to retire because I knew the next day was going to be a long one!
My friend, Lucy, and I in the club