Well I'm finally back after an exhausting but super fun cruise/European adventure! Lots of fun stories and pictures to share. For now just a quick recap of my takeaways as I unpack, battle jetlag, and recoup!
Most. Epic. Concert. Ever! Seriously, that concert was the greatest. There was just so much energy from the crowd and it was super special to not only have an acoustic concert, but a set-list full of songs we haven't heard live in YEARS!! I could seriously watch that concert every day and never get sick of that. So freakin good!
Anyone else think that AJ was a rockstar this cruise?? At least in my humble opinion, he seemed to be going above and beyond every day to make sure he could get as pictures with as many fans as possible. Though all the guys were really amazing putting up with us <3
Loved that they brought back the solo events. It was great to give each guy his time to shine and give us cruisers that much more Backstreet in our day. I think my fave solo event was AJ...but then again, tough to compete with hearing new music!
Having that 4th day back was phenomenal! Really hope that they continue to keep it 1 day longer. It really makes a huge difference.
I have been going back and forth if I like the 2 days of ports/sight-seeing as compared to one day with the beach party. I did enjoy 'sleeping in' and leisurely exploring the ports (granted I didn't do excursions). Meanwhile it appears the fans who did do excursions went on little to no sleep. I got tired just thinking about it! All that said....I really do like the beach party and enjoy spending the day with the boys and I missed it this year. I know we can't have it all, but suppose if I were to plan up my dream itinerary, I'd love a 4 day cruise with 1 day beach party, and the other day as a free day to explore whatever port. Best of both worlds.
I also have been going back and forth if I prefer Carnival to Royal Caribbean. It seems that both had their pros and cons. Carnival had 24/7 pizza which was super handy after a deck party, though that's all they had and the line was atrocious. Meanwhile Royal had a lot more food options with no lines, but it ended at 3am. I loved Royal's main theater, a lot easier to see with no cocktail tables in the way. But on the other hand, I think Carnival's atrium worked better for the indoor deck parties. There were a lot more differences, perhaps I'll do an in-depth post later, but those are a few things that stood out to me.
I was happy to see Rose Tours trying new things years and taking some of our suggestions to life. I've been suggesting BSB trivia for years now, and they finally did it! I sadly missed it because I was at the preferred event, so curious to hear from other cruisers how that event was. Also, other new things like the Guinness Record was a lot of fun.
Oh the preferred event. *sigh*. Not sure where to even start with this one. I know many fans left this feeling really disappointed. I rarely, if ever, complain about things on a BSB cruise..... Here's the thing - I loved the IDEA of the event, as I think many fans did, but unfortunately it failed in execution for numerous reason. Too many people, boys didn't/couldn't move around the room without being mobbed, boys weren't spread out enough, fans still were asking for pictures instead of mingling, an hour was clearly not enough time to get to everyone, etc. I actually wouldn't mind seeing them attempt this event again, but it just needs some tweaks and a lot more structure.
Selfie lines were great! I'm looking at you, AJ ;) Just wish more of the boys did this than the not-as-popular 'Mob the Backstreet Boy' approach. Ugh.
The little touches also don't go unnoticed... This was the first cruise we had a big screen on the pool deck and I thought it was an awesome addition to this cruise. I loved seeing pictures of fans scrolling; the movies playing; and of course live feeds of the events where possible.
I noticed there were not a lot of door decorations this year. Not sure if people didn't know about it (as a contest was never officially announced), or its just a natural decline in interest every year.
I'd be remiss not to talk about some of the negativity floating around on social media after this cruise. It honestly makes me sad, which is why I really try to stay away from it. It seems that as a whole, veteran cruisers were a little disappointed this time around with generally more aggressive crowds and some logistical mishaps.
As far as the crowds were concerned- I agree the fans were definitely, how shall I put this, the most 'passionate' this time around. Lots more pushing, following the boys, and I even heard some fans were bitten??? Goodness, ladies, we're grown adults! I was really hoping those were rumors, bad sadly I don't think it was. I'm not going to dwell on this point though, we've all heard enough of it.
It seems like fans were also disappointed with the majority of the deck parties being moved inside and the space not being very accommodating. I'm really starting to think BSB cruises are cursed with rain, we've had it every single time! It's easy to point fingers at the staff, we want to blame someone, but the reality is the weather just sucked this cruise and sadly the atrium wasn't the best place for a deck party. Sadly we can't control the weather.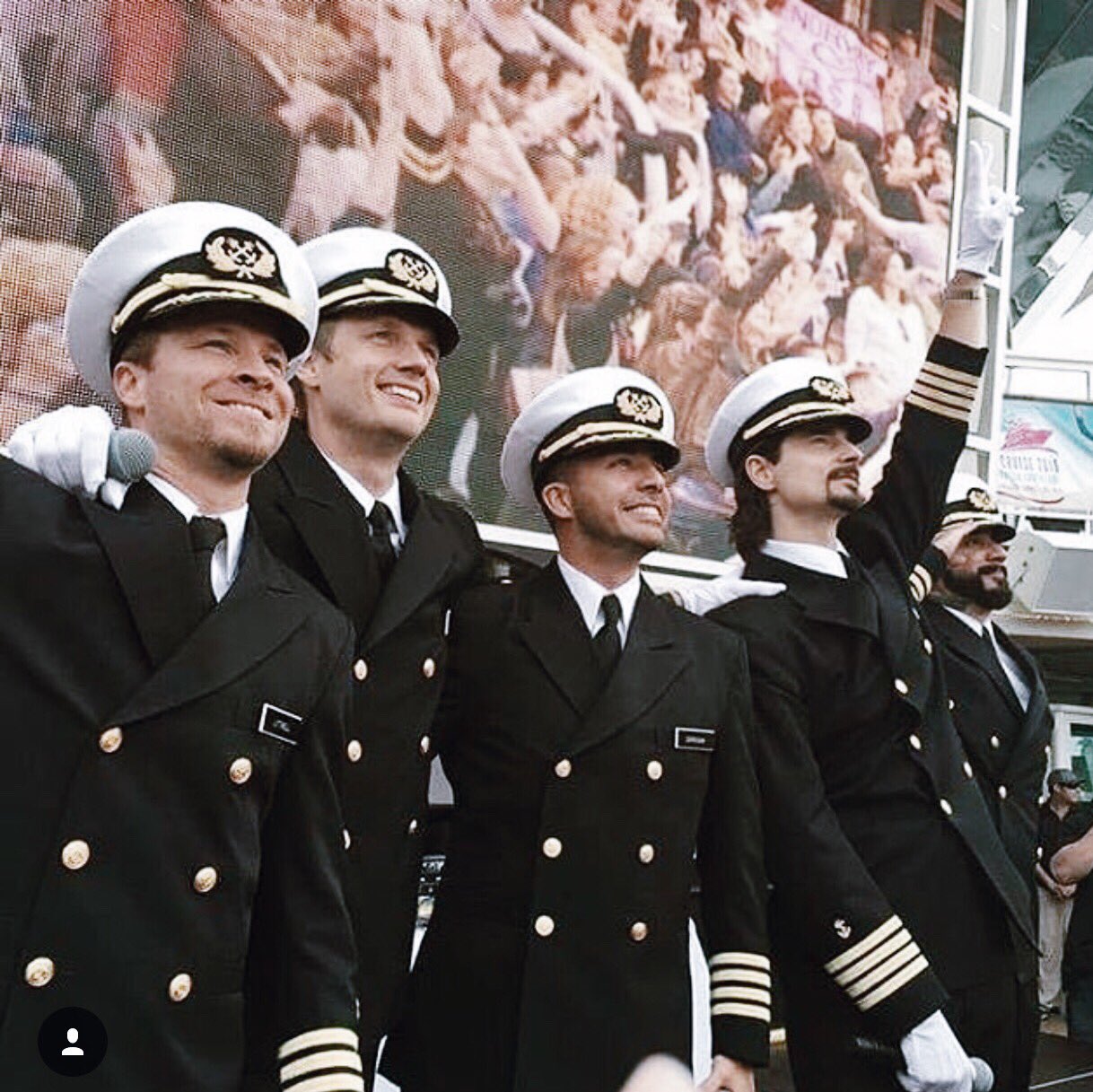 Full recap and analysis coming soon, but wanted to share my initial thoughts. It feels weird to say, but I think this was my least favorite cruise. Not so much because of the pushing or whatever other reasons people didn't enjoy themselves, but I think it's because my personal experiences and interactions from the last cruise were just so hard to top. As much as I tell myself not to compare the cruises with one another, its hard not to! Just to clarify - that doesn't mean I didn't have a great time. It means that I rate this cruise a 9.7 out of 10 instead of a 10 out of 10.
What did everyone else think??